The world is changing at a rapid speed, and these are, of course, the technology-related changes. With today's blog, we are going to help you understand the concept of utilising the best smart home devices and will share our recommendation for buying the top 3 smart home security cameras.
What is a smart home security camera?
A smart home security camera refers to the intelligent surveillance system that keeps a record of your home or office 24*7 in the form of digital footage. It is much required for prioritising the safety of your house and family members both in your presence as well as absence. The ultimate advantage of the smart home security surveillance system is that one can have access to the live footage from anywhere in the world.
Best Smart Home Devices: Top 3 Smart Home Security Cameras
A lot of brands are dealing into the manufacturing, exporting, and supplying of the different smart home security cameras. We shall discuss the top 3 camera brands that we recommend to our clients, who are currently having a smart home automation system installed in their house or office.
Shall we begin discussing the top 3 smart security camera?
1.   Arlo Pro 3 Wi-Fi Security Camera
Arlo is America's #1 internet-connected camera brands. It has got the best intelligence, innovation, and insightful design for tracking every move your home or office. The camera can be installed both indoors and outdoors as per the requirement of the homeowner. The camera is available for sale on Amazon (Click here for rate).
Features:
100% wireless security camera
Suitable for both indoor and outdoor locations
Waterproof camera, versatile for all seasons
Colour and infrared night vision scalability
Image sensor: 4 megapixels
Sensor size: 1/3 inches
Video resolution: 2560*1440
2X video with HDR for easy zoom-in on objects
Easy to set up and connect
Person, vehicle and animal detection
What's Special about Arlo Pro 3?
Arlo Pro 3 works with Alexa. You can add voice control by combining with a screen. Just say, 'Hi Alexa, show me the front door camera".
SpikeBot Smart Home Automation System Recommends Arlo Pro 3 Wi-Fi smart security camera for your home and office because it delivers the best resolution and recording capability.
2.   Wyze Cam V2
Wyze manufacturers and exports the best smart home devices, including smart security cameras, smart bulb, a smart plug, smart sensors, etc. It is one of the trending smart home security cameras in 2020. The camera takes only 3 seconds to scan an entire home or office room. For price and other Wyze cameras, click here. Let us discuss the features.
Features:
Video resolution: 1080*1080p full HD streaming
Motion and sound recording with cloud storage
Night vision for enabling clear vision during the dark
4 infrared (IR) LEDs
Automatically detects a 12-second video on the cloud on any sound detection or movement. The video is stored on the cloud for 14 days.
The camera recording access can be easily shared with more people in the family.
What's Special about Wyze Cam V2?
Wyze Cam V2 works with Alexa and Google Assistant. You can add voice control by combining with the device. Just say, 'Hi Alexa, show me the kitchen camera".
Confused which smart home voice assistant is the best in 2020? Read our previous blog post on SpikeBot Suggestion of best smart home speakers.
3.   Nest Cam IQ Indoor
Nest camera is a Google Home product. Google has simplified the process of installing the best smart home devices by introducing its very own products for a smart home such as smart camera, smart doorbell, digital alarm system, smart lock, smart smoke alarm sensor, etc. Let's discuss in detail about the famous Nest Cam IQ Indoor smart camera.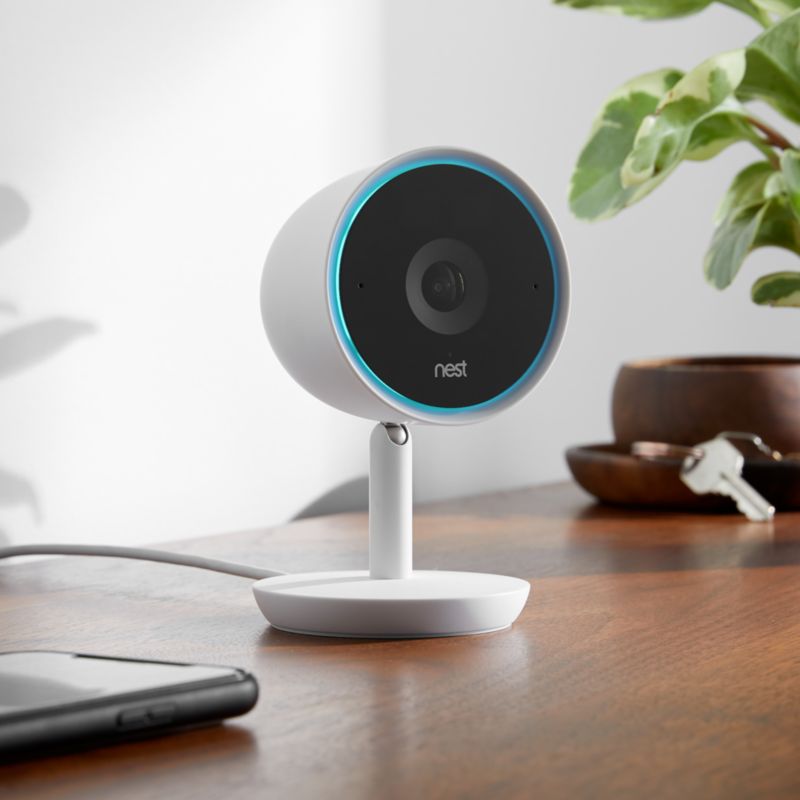 Features:
In-built Nest aware system for recognising faces
6-core processor
Person alerts
4k sensor HDR imaging
Video resolution: 1080p High definition recording
Close-up tracking view
Noise cancellation and echo suppression feature
Daytime HDR
940-night vision infrared
2x brighter LEDs
3-hour snapshot history with cloud storage
What's Special about Nest Cam?
The Nest cam is easily connected with Google voice assistant. Also, it has 3 microphone array with 7x powerful speaker that aids in noise and echo suppression. We recommend buying Google Nest camera for both indoor and outdoor purpose. You can check out the Nest outdoor camera by clicking here.
Summing Up
SpikeBot- smart home automation system recommends using the best smart home devices for enhancing your home safety and luxury. We recommend using the above-mentioned smart home surveillance cameras for safeguarding your house and the outdoor space.