In this 21st century, where everything is changing concerning time, what we need to do is that we should also change with it as well. In this World only a single thing is constant that is the change. Hence it has been well said that "Change is the new Constant".
The new and advanced smart homes promise a futuristic home experience where everything you need is just a small voice command away; even you are in the home or away from it. Hence we are introduced with futuristic gadgets that will let you do a lot of Home Automation and which are included within the Home Security systems.
The various kinds of systems are smart locks, smart cameras, smart thermostats, smart light and many more. The much more important feature is that it is enabled and works with the latest technology, i.e. Artificial Intelligence (AI) & Machine learning. Smart home security is all you need to overcome further mishaps.
What is Smart Home Security System?
A smart home security system includes security hardware installed at the property of the smart homeowner. Here the updates of the security system are received by the house owner on his or her smartphone. It includes timely alerts, video of the footage, and much more.
Countries like the USA are heading towards the utilization of smart home security systems. Here is the infographic of the market size.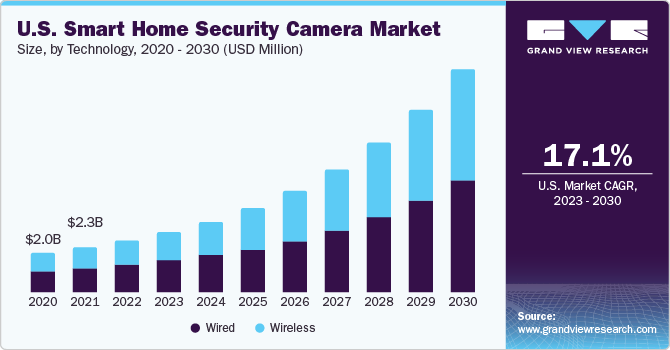 Here is how all these Home Automation devices can work with your Home Security system:-
1. Smart Doorbells
The smart doorbells are the most advanced and futuristic inventions made in this past decade. Gone are those days when you need to getup of your sofa and move to the door and verify from the tiny hole. It is a security-focused component of a security system. These mainly incorporate a little in the doorbell button.
When someone tries to ring the bell or approaches the door, depending on the situation, the doorbell sends a signal to your cellphone and hence activates the camera and thus lets you have a clear picture of whose is present, no matter where you are. All you need is that you should be connected to the internet.
These doorbells are beneficial, and hence there are plenty of options, like Ring Video Doorbell, Vivint Doorbell Camera and August Doorbell Cam.
Mostly all you need is:-
A. High-Resolution Video
B. Motion Sensing
C. Two-Way Audio
2. Smart Locks
Smart locks are the new kind of locks that are not only good for security but also better convenience, often forego your keys entirely. What it takes is the ability to communicate with your phone via Bluetooth or Wi-Fi itself, which allows you to lock as well as unlock your door from anywhere in the World.
Some kinds of doors allow you to automatically lock and unlock the door when they detect your phone approaching so that you can step-in & out hassle-free ever having to worry whether the door is locked.
3. Smart Cameras
Smart cameras take the traditional security camera concept and turn the dial up to eleven ideas. These types of cameras mainly incorporate Wi-Fi connection that enables it to be controlled and viewed remotely using a Mobile App itself.
Smart Home Security Tips
Before we wrap up, we would like to point out some smart home security system safety tips for our readers.
Always specify your Wi-Fi router with a name.
Try to use strong passwords for maintaining high-end security.
Features that are not in use, please disable it
Default usernames and passwords need to be changed immediately.
Always have a check on your product settings.
Also Read, What does the future hold for IoT based home automation system?

Previous Blog Post
Wrapping Up
We at SpikeBot try to provide premium quality Home Automation System and our Home Automation products at a very affordable price so that the Common person could also avail of the benefits of it as well. We prioritize ourselves for quality products and proper services.